As Japanese animation, known as anime, has exploded in popularity, so has the world of graphic novels, known as manga. Almost every anime series begins as nothing more than a manga before becoming a television show. If you're a reader of these but don't have the funds to buy reading material, there are plenty of manga sites online where you can read them digitally. Let's have a look at where to find popular manga series to read online malaysia.
Manga Reborn
Because most manga must be transcribed from Japanese in order to reach an English-speaking audience, many minor series are never translated or exported from Japan. The goal of this website is to bring these unexposed series to a wider audience, by translating them to English through the support of willing volunteers. There are many free-of-charge series on this site, and you can also pay to read specific series. This manga site is a fantastic service for all manga fans who want to make sure that lesser-known creators and artists get the recognition they deserve for their efforts.
Manga Kakalot
Manga Kakalot contains all you want and need if you're seeking some more diversity. It has manga series from 40 various genres, including all of the well-known series as well as a number of lesser-known ones. Every manga chapter is gathered on a webpage, so you can read the complete chapter by scrolling. You can also modify a few settings to make reading simpler, such as which image server to make use of (you can switch if one of them has any issues) and the margins surrounding the pages. This platform is one of the greatest for manga reading in general.
Crunchyroll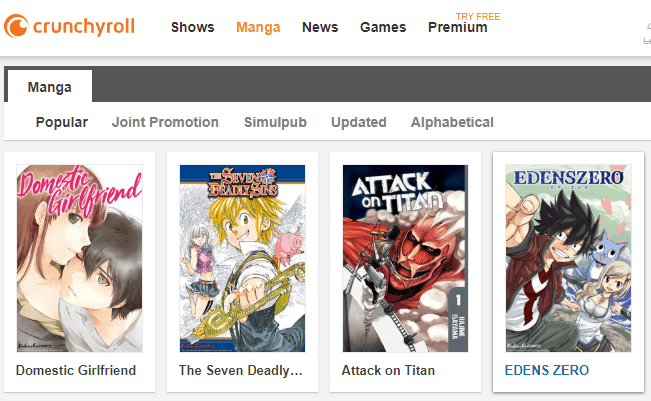 Crunchyroll is well noted for its anime streaming video service, but it also offers manga series to manga fans. There is a lot of manga on the site that can be read without charge, and there is also an app for reading on the move. You can subscribe for Crunchyroll Premium for $7.99/month to read all of the manga available. This grants you access to the site's anime and manga. The site also offers "simulpubs," which allow you to access manga simultaneously as it is released in Japan. If Crunchyroll hosts the series you're interested in, it's a terrific place to go for an ad-free experience.
Comic Walker
This is a popular manga website in Japan, and you can quickly switch to English for easier reading. You may find a variety of beloved series with the most recent entries, and you can opt to purchase more of a certain series if it isn't totally free. Each manga page contains a wealth of information that can be used to locate other related series or portions from the same series. Furthermore, the digitised chapters are of excellent quality and are simple to read.
Not having enough funds should not hinder a person from enjoying their favourite manga. These websites can help manga lovers get their fix without burning a hole in their pockets.